Help!! - East of Scotland Shield - my head hurts...
Posted: Thu Nov 04, 2010 4:56 pm
I've picked up again with my research on the East of Scotland Shield. The 1970s and early 1980s are proving a total mind-bending nightmare, however, I've got a set of inconsistencies with the late 1940s as well... which is a bit simpler - and I've been able to lay-out what they are below. Can anyone clarify the situation?
Sources:
HR... Hibs Results database
HP... Hibs Programmes website
LH... London Hearts website
(HO = Held-Over)
1948-49, 1949-50 + 1950-51 EOS Shields
??... 18 Apr 1949... Hearts 6-0 Edinburgh City... LH
> LH + Wikipedia say this was a Final; The Scotsman says this was a Semi-Final: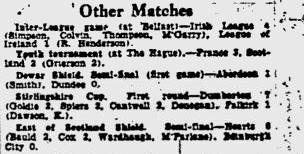 ??... 14 Apr 1950... Hibs ?-? Leith... HP
SF... 10 May 1950... Hearts 5-2 Leith... LH
Final... 15 May 1950... Hibs 2-1 Hearts... LH
> Obviously if the above 3 games are all real, at least 1 must be for a different edition to the others
> Weren't Hibs on tour (in Germany?) in May 1950?
> Could the 15 May 1950 game be confused with the below game, also on London Hearts (same date, following year, same score) but also 2 Hibs sources?
Final... 15 May 1951... Hibs 2-1 Hearts... HR, HP, LH
> "The Winners" say winners were Hearts (1948-49), Hearts (1949-50), Hibs (1950-51)
> Wikipedia says winners were Hearts (1948-49... 6-0 over Edinburgh City), Hibs (1949-50... 2-1 over Hearts), Hibs (1950-51... no match)
My conclusion is the 1948-49 to 1950-51 results must include held-over games and/or perhaps some mistakes.
I'm thinking it may be possible an edition was unplayed (perhaps 1950-51) due to repeat held-overs, i.e. to get it back in the correct season? And that it's thus possible that one edition has been double-counted, perhaps most likely in "The Winners"?
Edinburgh City also dropout in 1949... so I guess it's possible they had a Semi-Final tie scheduled versus someone that they scratched / or just could not fulfil...
If anyone can help with this, in whole or part, I'd be most grateful.